Welcome back to the Gulf Coast Cowboy! We're going to Mexico this week so bring your swim trunks and enjoy the crystal clear waters. We're focusing on a couple of musicians with strong ties to the beaches south of the border. Mark Mulligan makes his home down there and Sam Rainwater plays a number of shows in the Mexico Riviera. Tune in Wednesday evening at 7pm to hear our ode to Mexico!
Hey guys and gals! It's Featured Artist Friday! As usual, I've got 3 songs up for inclusion in our rotation. Visit us on our Facebook page and let us know what you think!
Welcome back to the Gulf Coast Cowboy! On Wednesday Morning, in the pre-dawn hours, we're going to get a special treat in the form of a lunar eclipse! Astronomers say that between 4:15am and 5:25am, we'll witness something that doesn't happen very often. Be sure to set your alarm clocks to wake up and witness the 'Blood Moon' and the lunar eclipse! This week we're dedicating our show to dancing out on the beach in honor of this celestial occurrence. Tune in to the show Wednesday, October 8, at 7pm!
Welcome back to the Gulf Coast Cowboy! Have you ever taken a vacation and done nothing in particular? We enjoy those types of getaways here at KBEC. The ones where you don't have anything planned and you don't feel bad about it. Well that's what this week's show is dedicated to. These songs make us want to do nothing but sit back and find a new latitude in life. Tune in to KBEC this Wednesday night at 7:00pm and let us take you away for an hour!
Kris Kristofferson has an unusual resume. Brownsville, Texas-born, football star and Golden Gloves boxer in college, Rhodes scholar at Oxford, Army captain, and chopper pilot, studio janitor, part-time bartender, leading man opposite Barbara Streisand and Jane Fonda. But on his passport, under occupation it reads songwriter. And that, more than anything, sums up the essence of Kris Kristofferson. This performance from September 1981 captures Kris in his prime, and includes classics like 'Me And Bobby McGee', 'Loving Her Was Easier', 'Why Me?', and 'Sunday Mornin Comin Down'. Join us Thursday evening< October 9th at 7pm to listen to the entire Live From Austin, Tx recording.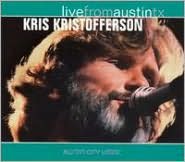 Read more: Live In Texas: Kris Kristofferson, Live From Austin, Tx
Page 19 of 99