We get a lot of requests here at KBEC. We spend a good amount of time each week dedicated to reading those e-mails and sorting through the good and the bad. This week's episode of the Gulf Coast Cowboy is 6 of the most requested songs and a few of our own favorites. We hope this gets you in a beach state-of-mind, to help you get through the rest of the week! Tune in to KBEC Wednesday, June 11 at 7pm for your weekly dose of the beach!
King George is calling it a career. This Saturday night, George Strait is having his final show at AT&T Stadium in what promises to be one of the biggest concerts the DFW Metroplex has ever seen. For our Featured Artist Friday, we're focusing on George's career. For the entire 5 'o' clock hour, we'll be playing deep cuts and big hits from the King himself.
Welcome back to the Gulf Coast Cowboy! As of last Sunday morning at 12:01 AM, it's officially June. You know what that means? Vacation Time! The kids are out of school, the weather is perfect for a beach vacation. Key West, Galveston, Padre Island, New Orleans, all of them are great options. This week we're celebrating the concept of the vacation through songs written about getting away for a week and enjoying a beach. Where are you planning on vacationing this year? Join us on KBEC, Wednesday night at 7pm for your weekly dose of the beach state of mind!
Hey guys and gals! It's Featured Artist Friday! As usual, I've got 3 songs up for inclusion in our rotation. Visit us on our Facebook page and let us know what you think!
Kris Kristofferson has an unusual resume. Brownsville, Texas-born, football star and Golden Gloves boxer in college, Rhodes scholar at Oxford, Army captain, and chopper pilot, studio janitor, part-time bartender, leading man opposite Barbara Streisand and Jane Fonda. But on his passport, under occupation it reads songwriter. And that, more than anything, sums up the essence of Kris Kristofferson. This performance from September 1981 captures Kris in his prime, and includes classics like 'Me And Bobby McGee', 'Loving Her Was Easier', 'Why Me?', and 'Sunday Mornin Comin Down'. Join us Thursday evening at 7pm to listen to the entire Live From Austin, Tx recording.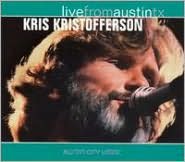 Read more: Live In Texas: Kris Kristofferson, Live From Austin, Tx
Page 8 of 83